FAQ's:
Getting Started:
Do you deliver to me?
If you live in Austin, San Antonio, Houston, Dallas, or surrounding areas of these cities - we probably do!
First, check if we deliver to your area by clicking on "Find your Delivery Day" at the top of the page. Complete the required fields and Click on "Next Step".

If we don't currently deliver to your area- please reach out with your address to

info@farmhousedelivery.com

, you may be close enough to add to one of our routes! If we do currently deliver in your area- Congrats!

CLICK HERE

to begin sign-up.
Building your order
Stay tuned, we will also have the instructional video coming soon!
How can I tip my driver?
" We love our drivers and packers as much as you do! While of course we pay every driver/ packer a healthy living wage, we also want to make it easy for people to "say thanks" to our hard working team.
You will have an option to tip your driver each week under your order or to set up a recurring tip head to Your Account > Manage Orders and click on the "Tip Your Driver" button located under Order Summary. From here you can add a specified tip amount to all future orders.
I don't see a checkout button. How do I know my order will arrive?
No checkout button here! We use order cutoff times to finalize your cart. If your delivery date is Wednesday, Thursday, or Friday- your order cutoff is 3pm two days prior to delivery. Tuesday order cutoff is 10pm Sunday night. Once the cutoff has passed, your order is confirmed.
*Please note that Meal Kit selections must be made one week in advance of your cutoff time.*
What time should my delivery arrive?
Our deliveries usually occur between 7am and 6pm. Due to our sustainable routing process, we are unfortunately unable to guarantee delivery times. If the phone number on your account can receive text messages, you will receive a 2 hour approximate heads up of your delivery arriving, and then another message when the driver is headed your way!
What about the bins/bags/ice packs?
We are proud to offer sustainable, reusable packaging for your orders! The materials we use include our plastic bins, insulated fabric bags, freezer bags, and ice packs. Do not discard or keep these items as we rely on them being returned to get them cleaned and back into circulation.
Please leave the empty bins/bags and ice packs outside on your next scheduled delivery day, and the driver will make the exchange.
Don't have a delivery but need a pick up anyway? Contact customer service at info@farmhousedelivery.com to schedule a courtesy pick up!
About our products:
Where does our produce come from?
We strongly believe in eating local, so the majority of produce we sell is from Texas, most from farms within 150 miles of Austin.
Local food is at the heart of everything we do, yet we also know that sometimes household staples such as mangoes or lemons simply aren't available from local sources. A family home cook in San Marcos will likely need lemons or olive oil, just as much as a cook in Dallas may regularly use pecans. And we can't forget our daily cup of coffee or chai!
We supplement our amazing local selections with some carefully-chosen products from a wider radius for that exact reason. And all our selected vendors local or not - must share the same company values and beliefs in sustainability that we do here at Farmhouse!
Can I see what is going to be in my Subscription Box weekly?
All our Local boxes Texas-local produce, and are curated weekly for peak seasonality, sourcing entirely from small to mid-sized Texas farms that are committed to using Certified Organic or beyond-organic practices.
Mix & match fruit and vegetables in your produce box to build it just the way you want it. Check out our video below to learn more about this exciting feature and how to get started!
Stay tuned, we will also have the instructional video coming soon!
Can I choose the items in my Local Produce Box?
Stay tuned, we will have the instructional video coming soon! video coming soon!
How do I order a Meal Kit, Bundle or a Produce Box Subscription?
Find the Item you want to subscribe to, whether it be a Local Produce Box, a Meal Kit Subscription for 4 or 8 servings, or any other item that has the "Subscribe" feature available and click on Subscribe.

Select the number of items you want to subscribe to by selecting the + or - buttons on the image. Then select your delivery preference of One Time, Weekly, Every 3 weeks, or Every 4 weeks, and then select " Continue".

Once you click continue, the item you subscribed to will automatically apply to your cart. You can check this by going to the top right of the screen and selecting your basket icon.
Stay tuned, we will also have the instructional video coming soon!
Is your produce organic?
We are proud to offer a wide range of produce options in our store. USDA certified organic products will be clearly labeled as "Organic" on our site. With that being said, many of our small family farmers adhere to organic growing practices but do not have the resources to afford organic labeling on their products. As such, their produce cannot be labeled as 'Certified Organic' as per USDA regulations
What are the standards for your meat?
Farmhouse rigorously quality tests every meat supplier who hand-selects every cut. We only believe in pasture-raising animals and humane processing practices. We support ranchers who treat their animals with care, kindness, and the utmost respect for their upbringing, quality of life, and diet.
Delivery Service Information:
What is the order minimum for Austin customers?
To be eligible for delivery, orders in the Austin delivery zone (All Austin, Buda, Kyle, San Marcos, and New Braunfels) must meet a minimum subtotal of $49.99.
Our delivery fee in this region is $7.99.
Purchases of $79.99 or more qualify for free delivery.
What is the order minimum for Houston/San Antonio customers?
To be eligible for delivery, orders in the Houston delivery zone & San Antonio delivery zone must meet a minimum subtotal of $69.99.
Our delivery fee in this region is $9.99.
Purchases of $99.99 or more qualify for free delivery.
What is the order minimum for Dallas customers?
To be eligible for delivery, orders in the Dallas delivery zone must meet a minimum subtotal of $89.99.
Our delivery fee in this region is $14.99.
Purchases of $119.99 or more qualify for free delivery.
Service Updates:
Why are prices changing?
Due to increases in production costs across the food-production industry, we have made the decision to increase our Produce Box prices and order minimums. Please understand these changes are necessary to continue to provide our farmers, ranchers and producers with a fair wage so they can continue to operate and produce high-quality artisan products.
Customer Service and other information:
General questions or concerns:
If you can't find the answer to your question in our comprehensive FAQ Help Center, please send us an email at info@farmhousedelivery.com or call/text us at (512) 529-8569. We look forward to hearing from you!
Our Customer Service is available for assistance:
Monday-Friday: 9am- 6pm
Saturday- Sunday: Closed
I can't sign into my account?
Firstly, try resetting your password. Visit farmhousedelivery.com and click "Forgot Password?" We'll send you an email to help you reset it.

If that doesn't work for you, please don't hesitate to get in touch with us at info@farmhousedelivery.com. Please include the email address associated with your account and we'll be in touch as quickly as possible.
How do I view credits on my account?
Any/all credits can be viewed by accessing "Your Account" (click on your name in the right-hand corner of the screen) and selecting the "Payment Details" section on the left.
Your Farmhouse shopping cart will reflect your unadjusted subtotal for the week, but rest assured that any active credit(s) on file will automatically apply to your upcoming order.
What happens if there is an issue with my order?
Your experience is important to us. While we don't accept returns in most cases due to the nature of our business, if we can make it right, we will! We are proud to offer a 100% satisfaction guarantee and if you are unhappy with a particular item, please notify us via phone or email within 5 days of receiving your order and we will be happy to arrange a credit or replacement item. You will need to supply a full picture of your packing slip and the item of concern.
Do you offer a Friend Referral rewards program?
Yes! For all of us here at Farmhouse, there is no greater compliment than your referral. We love it so much that if you refer a friend to Farmhouse Delivery, we'll give you each $20 after they place their first order, as a little thank you.. Please access the "Refer A Friend" section of the "Your Account" menu and click on Learn More to obtain a unique referral link to share with the special people in your life. Just remember, they need to live in our service zone. Then, just sit back and start racking up the rewards - there's no limit to how much you can earn!
*Please note that only one referral credit can be bestowed per customer sign up. Multiple established members are not able to claim the same customer referral.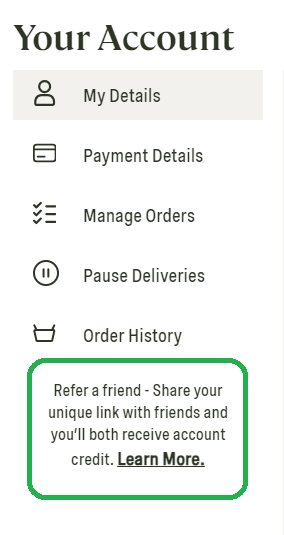 Other Stuff:
Do you offer discounts for Military, seniors, first responders or teachers?
Yes, yes, yes, and yes! We offer 10% off of our Produce Boxes. To claim your discount, send an email to info@farmhousedelivery.com requesting your veteran, senior (65 years+), first responder or teacher discount, along with proof of credentials, and our customer service team will send you a code to use at sign-up if you haven't already created an account. If you're already a member and want to claim your discount, email us the above information and let us know that you already have an account and your username, and we'll set you up from there!
When will you charge me for my order?
A pre-auth will be placed on your payment method shortly after your shopping window closes, and your charge will be processed once your order is packed; please refer to your account page for the exact billing date and all other important info.
If you need to make changes to your next order, the deadline for making any changes to your order is 3:00 p.m. CT on the day your shopping window closes.
Where can I see my receipt of order?
Once you log in to your Farmhouse account, navigate to Your Account and click on Manage Orders to see your full list of receipts. You will also receive an emailed receipt when we bill your card on the day of packing and delivery.
How do I manage my subscriptions?
Please access the "Manage orders" section of the "Your Account" menu and scroll to the bottom of the page. There you will see a "Manage Subscriptions" Section.

From here you can either cancel the subscription order by clicking on the "x" in the relevant subscription, or you can increase/decrease the quantity of the items you are wanting to order. You will even have the option to change the frequency of the subscription.
What if I am not home when you deliver?
Deliveries are packed in either reusable closed-top tote bins or insulated bags and are packed with plenty of ice packs to keep everything cool for several hours. During the hottest parts of the year, we recommend having a friend or neighbor collect your items for you if you'll be away most of the day.
Do you deliver to apartment buildings, condos and gated residences?
Yes, of course!
Just make sure you give us all the details in relation to your complex to ensure a successful delivery. Delivery notes with details such as: gate codes, door codes, building and floor numbers and anything geographically that can help us get your goods to your door.
You can add these on the "My Details" tab under the Your Account section and scrolling down to "Delivery Details".
Be sure to click on "Edit Delivery Notes" and complete all the relevant fields.
Alcohol (Austin Region ONLY):
Is an adult signature required at delivery for an alcohol order?
Yes, an in-person signature of someone 21 years of age or older (with a valid government-issued ID card) is required at delivery for any alcohol purchase. Please see our Terms And Conditions for additional information about alcohol delivery.